Medvedev, Proud of His 66-Win Season | ATP Tour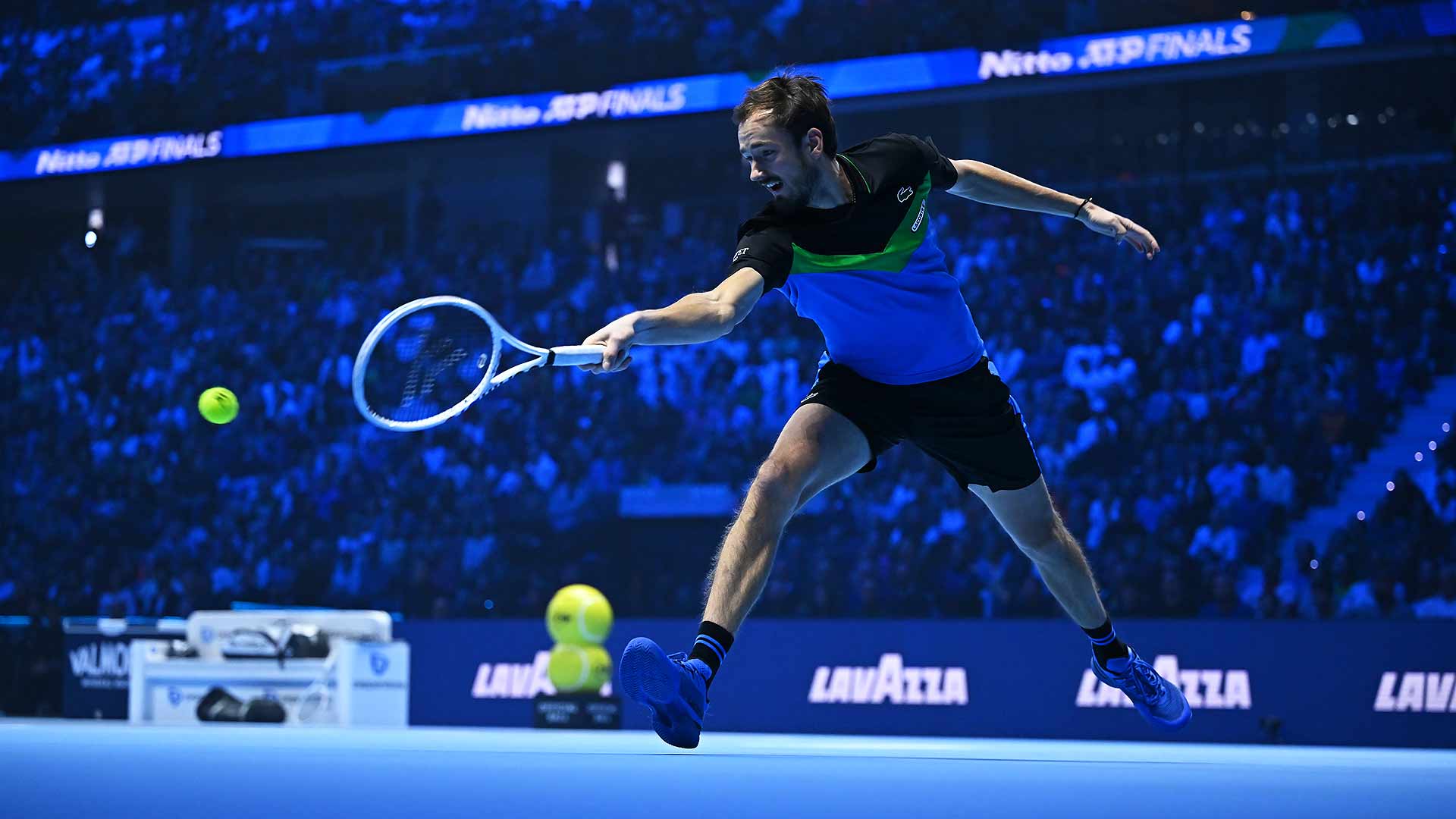 Daniil Medvedev's season has ended much better this year than last.
The former world No. 1 left Turin 12 months ago with nothing to show for it except three heartbreaking losses in the third set tie-break of the Nitto ATP Finals. This time he returned to the semifinals after posting a 2-1 record in the group stage to cap an impressive year that saw 66 match wins and a record five titles.
"I'm happy. It's been a great season," said Medvedev, who will finish at No. 3 in the Pepperstone ATP Rankings. "I've had ups and downs. The best was at the beginning of the season. I felt proud of myself because before Rotterdam I fell out of the Top 10… I felt terrible, horrible. I couldn't put the ball on the court."
"Afterwards everything was better. Titles, finals, things like that. In general, I am happy with what I have achieved this season. I am going to try to learn from it and try to go for more next season, because Sinner, Alcaraz, Novak, "They just play better and better. If you want to try to stay at the top, you have to improve non-stop."
Medvedev began the season on a 19-fight winning streak, with titles in Rotterdam, Doha and Dubai, and a final in Indian Wells. He then claimed his fifth ATP Masters 1000 title in Miami and, during the clay court tour, surprised with a title in Rome.
Medvedev came back after losing the first set on Saturday against Sinner, but in the end he was unable to stop the momentum of the Italian, who has won 17 of his last 18 matches and who has the support of his crowd at the Pala Alpitour.
"I'm very impressed, actually," Medvedev said of Sinner's level. "He doesn't miss much, he knows how to run well. If you give him easy balls, you feel like he's moving you around the court. He knows how to volley well. His serve has improved a lot."
"In general I think that if he plays like this, like he played the last few weeks, all the time, he's going to have Slams, No. 1. Then comes how many weeks, how many Slams, things like that. Sometimes it ends like that. The question is how often "He's going to make it. When he's not on the wave, how well he plays. That's tennis."
"But at the moment it's very, very good, and there's not much more to add."
You May Also Be Interested: Sinner Will Seek To Be The Champion At Home
Medvedev is now looking for a relaxing beach to take a break and hinted that he could have a lighter January schedule than normal.
"To be honest, I haven't been on vacation in the off-season like some players. I had the Davis Cup once. Last year we had a baby, so… I immediately got back to my duties."
"This year we are going to go with my wife to the islands. It is the first time in four or five years. She doesn't like it too much because there is not much to do. But for me it is perfect after a hectic season. I love it ( smile)".
"I'm probably going to just play the Australian Open. I'm going to try to have more vacation time than usual and more time in the off-season and start with a Grand Slam directly, which is going to be new for me."
Source: https://www.atptour.com/es/news/medvedev-turin-2023-saturday-reaction