Kontaveit says farewell to tennis in Tallinn exhibition with Jabeur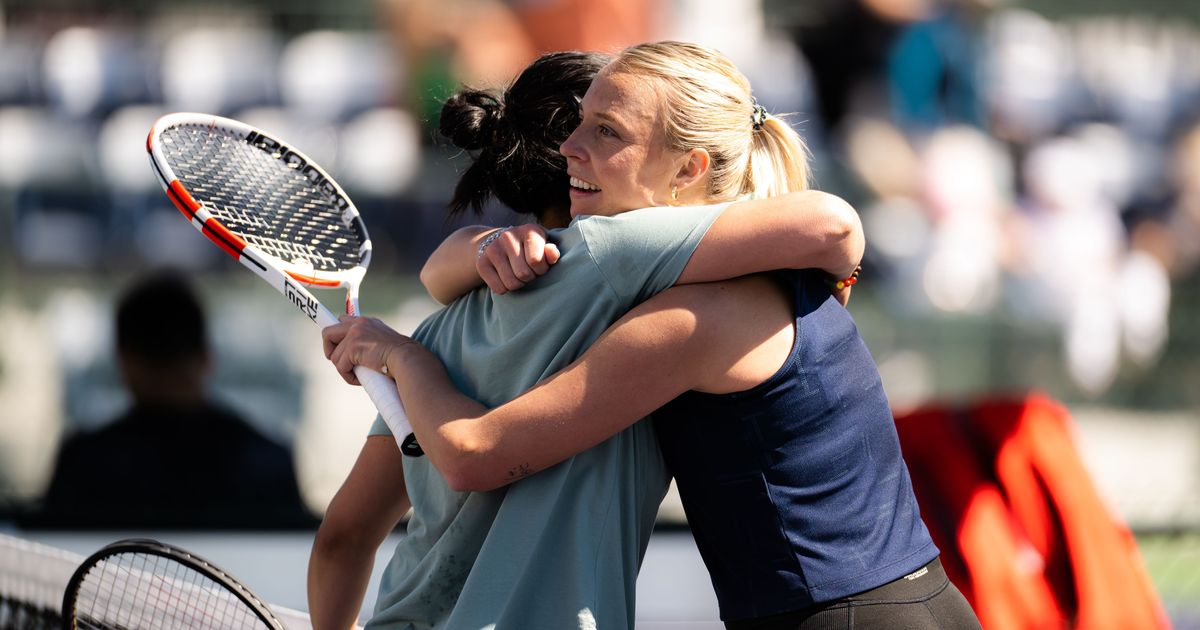 A sold-out crowd at the Tondiraba Ice Hall in Tallinn said farewell to their national heroine, Anett Kontaveit, over the weekend.
The former World No.2, who retired from tennis after Wimbledon this summer as a result of a degenerative back injury, welcomed good friend Ons Jabeur to her home country for an exhibition match Saturday that doubled as an exit interview of sorts, as Kontaveit took the microphone and held court with the crowd afterwards.
The match, won by Jabeur 6-4, 4-6, [10-7]was officiated by WTA chair umpire Kader Nouni of France. Kontaveit trailed 6-4, 4-2, before rallying to force a match tiebreak in the spirited contest.
"It is an honor to be here in front of such a large crowd and to compete against Ons, who is a terrific tennis player and a fantastic person, and to have Kader, one of my favorite referees, with us today," Kontaveit said after the match, as reported by Estonian news outlet Estonian National Broadcasting (ERR).
"I am overjoyed that I was able to say goodbye to everyone on the tennis court once again. I feel like I've done something really right in my life since I've been able to bring such an audience here."
Kontaveit said goodbye to the Hologic WTA Tour as the highest-ranking Estonian player in history. She peaked at No. 2 in the WTA rankings last summer, and reached 17 career WTA singles finals (winning six titles). She was the runner-up at the WTA Finals in 2021, was twice a finalist at WTA 1000 events, and reached the quarterfinals of the 2020 Australian Open.
Kontaveit scheduled the exhibition shortly after her retirement became official, with the Estonian saying that Jabeur was the "first person" she thought to invite for the special evening.
Jabeur was equally grateful to visit Estonia for the first time for the special occasion, she said, and made Kontaveit an offer she couldn't refuse.
"I want to thank Anett for picking me as her leave competitor, but I am still trying to encourage her to return to the professionals," Jabeur said. "Even if the audience was clearly on Anett's side, I am overjoyed to be in Tallinn for the first time, and the crowd was fantastic.
"If you ever host a competition here, maybe I'll come back and Anett will coach me!"
Source: https://www.wtatennis.com/news/3784299/kontaveit-says-farewell-to-tennis-in-tallinn-exhibition-with-jabeur