More Sustainable: The Nitto ATP Finals Present a Green Project in Turin | ATP Tour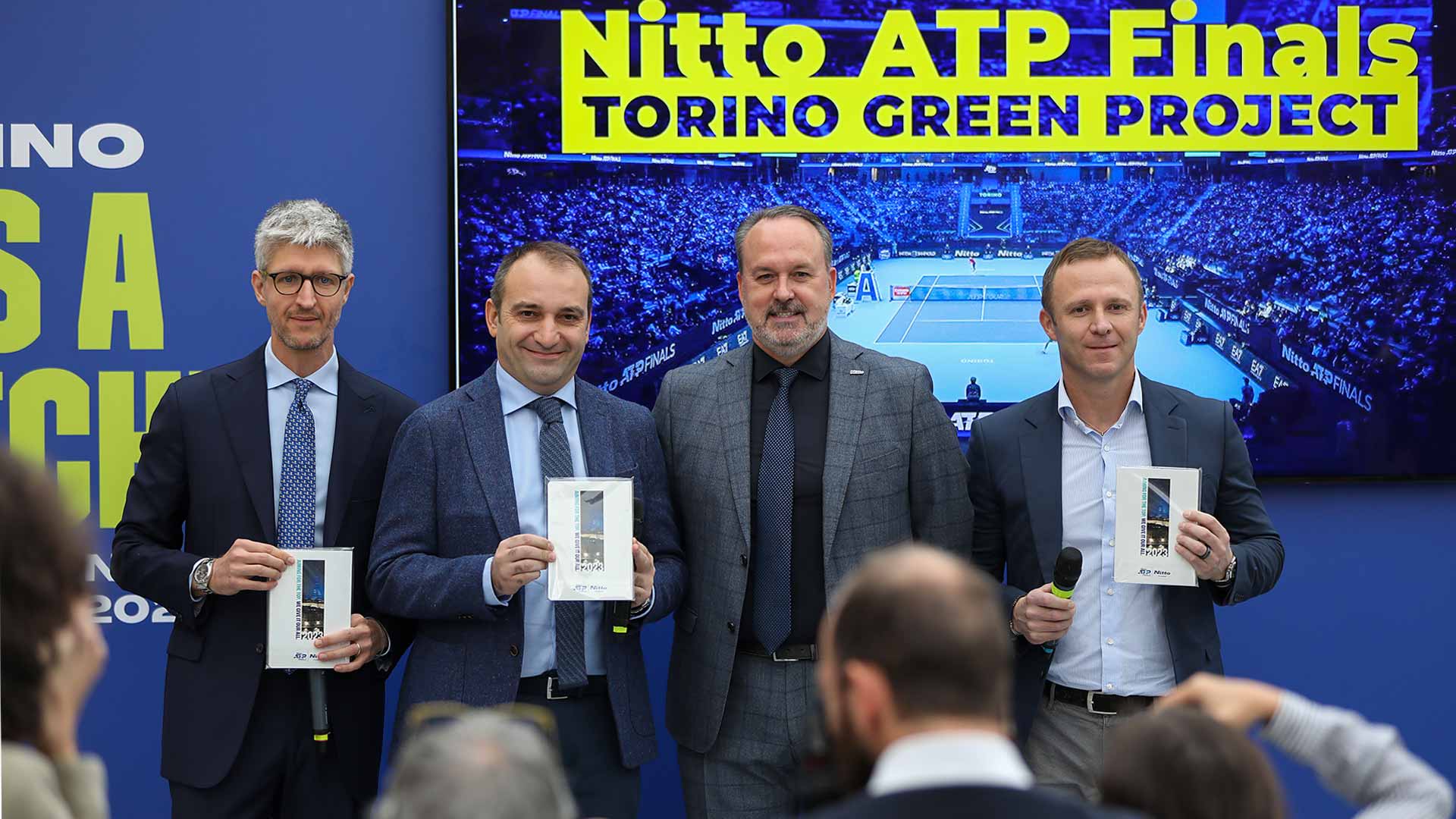 The ATP, Nitto and the Italian Tennis and Paddle Federation (FITP) have joined forces to promote the Green Project at the Nitto ATP Finals, an environmental sustainability project in Turin, the city that hosts the tournament. This action leads another year of sustainability at the culmination of the event.
The Nitto ATP Finals Green Project aims to offset CO2 emissions in the city of Turin, while supporting the development and regeneration of green spaces in the city. Thanks to the funds raised, 40 trees will be planted around the Pala Alpitour pavilion, the venue that hosts the Nitto ATP Finals. It will also involve the installation of green roofs at certain bus stops in the city, designed to improve insulation, reduce the impact of storm surges, capture CO2, filter pollution and increase biodiversity.
To start the project, Nitto will inject a donation of 100,000 euros to the Turin city council. In addition, Nitto will raise funds through an online solidarity action that offers premium tournament tickets and unique experiences, as well as contributions from the Stalogy notebooks that are for sale in the Nitto ATP Finals Fan Village. To learn more details about the charity auction and bid for exclusive prizes, you can click here.

Photo: Andrew Eichenholz/ATP Tour

The Nitto ATP Finals Green Project was officially announced at the Nitto ATP Finals Innovation Summit, which took place this Thursday in central Turin for the second year in a row. The summit focused on the reduction of CO2 emissions and the circular economy. The roundtable included representatives from Nitto, ATP, FITP and the city of Turin, one of the 100 'Mission Cities' chosen by the European Commission to achieve climate neutrality by 2030. A group of leading global brands and start-ups technological ups such as Haier, Iren, PlanetSmartCity, Argotec or Pirelli, put the finishing touch to the Summit.
ATP President Massimo Calvelli said: "The Nitto ATP Finals is our flagship event and a cornerstone of ATP Serves' sustainability strategy. We have ambitious goals and significant progress that is only possible with the right partners at our side. "We would like to thank Nitto and the FITP for their commitment to this special event and their views on environmental sustainability."
The Nitto ATP Finals 2023 will feature several sustainability measures to minimize the impact of the tournament's emissions and resource consumption. This includes free tram rides for ticket holders, a 100% electric or hybrid car fleet, and extensive use of recycled and sustainable materials by tournament partners. Nitto will donate 6,000 paper napkins, made from its exclusive plastic-free material, to be used in the Nitto ATP Finals Fan Village and other areas of the tournament.
To find more details on the sustainability of the ATP Tour, you can see it at 'ATP Serves'.
Source: https://www.atptour.com/es/news/nitto-atp-finals-2023-torino-green-project