Juan Carlos Ferrero About Carlos Alcaraz's Year: "The Balance is Great" | ATP Tour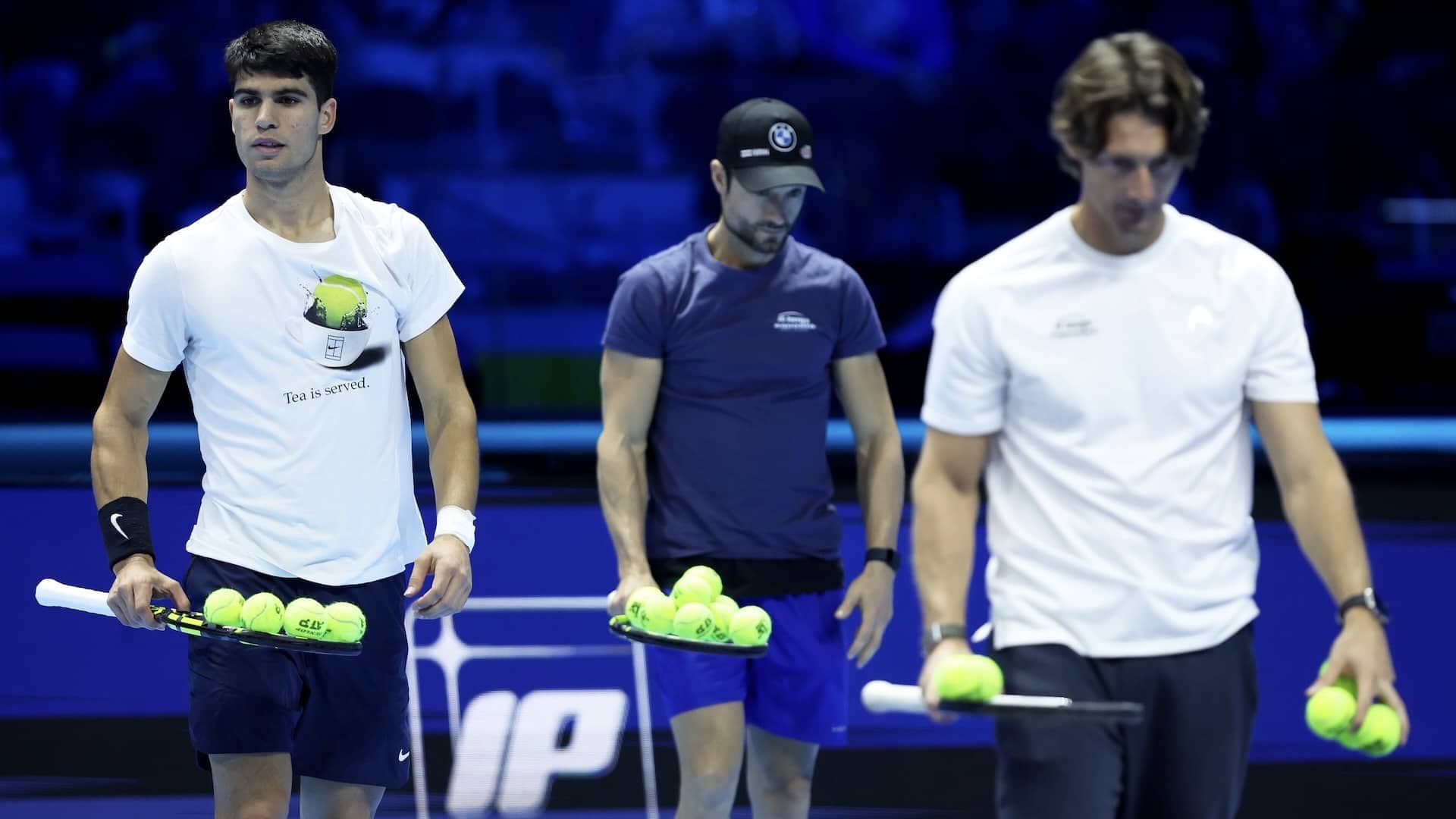 Juan Carlos Ferrero accompanied Carlos Alcaraz to the press conference that the Spaniard offered to the media after losing in the semifinals of the Nitto ATP Finals with Novak Djokovic. Sitting on the floor of the Pala Alpitour press room, the former world No. 1 listened to how his pupil made self-criticism after giving in to the Serbian, but at the same time he stuck out his chest for the best year of his career.
"It has been a spectacular year," summarized Alcaraz. "It must be emphasized that I have added 2,000 more points than last season, but playing one less Grand Slam," recalled the Spaniard, who could not compete in the Australian Open due to injury. "I haven't played in Australia, and yet it has been my best season: it has been incredible, I have played great games. I have been improving little by little and I have also learned how to deal with pressure, with difficult moments."
"The balance is very good," Ferrero, coach of the 20-year-old, followed later. "Whenever the previous season is improved, the balance is positive. This year we have won the Grand Slam that we least expected (Wimbledon), and it has been a nice surprise. And he has achieved around 2,000 more points without playing the Australian Open. That says a lot about the effort he has made in each tournament to add and continue pushing."
You might also be interested in: Alcaraz: "I'm not at Djokovic's level on the indoor court"
Alcaraz and Ferrero, however, agree in the analysis of the final stretch of 2023: since he lost in the semifinals of the US Open against Daniil Medvedev, the champion of two Grand Slam titles has found it difficult to continue moving forward.
"These days I have read an interview in which Juan Carlos said that I had to learn that the season runs from January to November," Alcaraz confessed. "And he is absolutely right in the world. Maybe it has been difficult for me to assimilate this last part of the season. As I said, I have many things to improve, and that is one of them. Learning that a tennis player's season does not end in June, August or September, but rather lasts until November."
"Since the US Open, we have lowered the level a little and in that aspect we have to improve," Ferrero acknowledged. "You have to be more focused on being professional all the time. On the other hand, we know what we need to improve tennis-wise and mentally. They are also things of the 20 years that must mature. He is usually harsh with his own self-criticism, which is something that we all find remarkable and like," said the Valencian.
"To be a great professional you have to control all areas," continued Ferrero. "You have to do the necessary things at all times: train when you have to, have fun when you have to and disconnect when you have to. He has to improve certain things that he knows, and he is trying. So go for it."
Thus, Alcaraz ends 2023 with six titles, including Wimbledon and the ATP Masters 1000 in Indian Wells and Madrid. The Spaniard finished the season with 77 games played (65-12), but the No. 2 would have liked to finish with more games under his belt.
"I don't see that there are many," Alcaraz said. "I think I have been one of the players who has played the fewest tournaments, although probably one of the players who has played the most games. The statistics are good, but the truth is that I would have liked to finish with more games," he acknowledged. "That would have meant reaching the final rounds in the end-of-season tournaments."
"Along with a couple of players, he has been the one who has played the least all year," Ferrero contributed. "It's difficult to play less. If you are very good, you will play many games for a long time. You have to get used to the idea and be professional in that aspect, know that it is your job and accept it. For me, the season is very good, I think that once again he has taken a small step to grow in his game and in his maturity, but he is still 20 years old and he has to continue in the process of continuing to improve."
Source: https://www.atptour.com/es/news/nitto-atp-finals-2023-ferrero-alcaraz-feature-domingo