Jannik Sinner's Candidacy In Turin: "Be Brave At All Times" | ATP Tour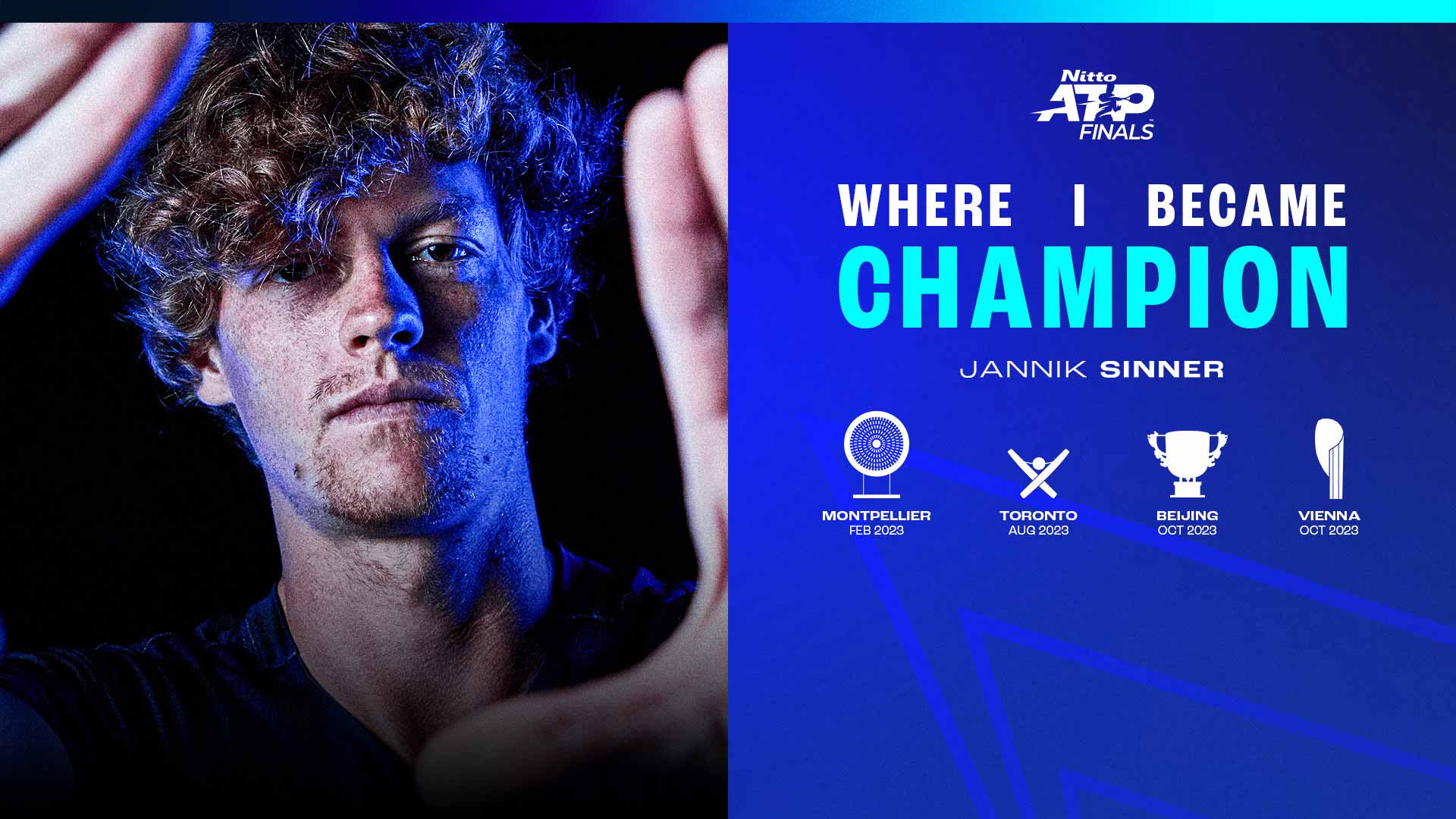 Success on the ATP Tour does not lie solely in accumulating the greatest number of victories. It also matters who you beat, and when.
Jannik Sinner knows perfectly well what a victory against a direct rival can do to a player's confidence. The World No. 4 has won nine of his last 11 matches against Top 20 opponents, including his four most recent meetings against players with whom he will share the stage at this year's Nitto ATP Finals.
After becoming ATP Masters 1000 champion for the first time in August in Toronto, Sinner combined victories against Carlos Alcaraz and Daniil Medvedev to lift the Beijing trophy in early October, doing the same against Andrey Rublev and Medvedev that same month to win another crown ATP 500 in Vienna.
"When you have confidence, it's always easier to play, but you have to earn that confidence," Sinner told ATPTour.com last month. "It's not something you can buy. It's something very important. Obviously, [aumenta conforme] you win more games, but it also influences which players you win against. [Las victorias de Pekín] "They were very important."
Sinner had arrived in Beijing with different dynamics against Alcaraz and Medvedev. His victory in two sets in the semifinals over Alcaraz in the Chinese capital put the Italian with a lead (4-3) in the Lexus ATP Head2Head history. However, he reached the final against Medvedev without having known victory in the six previous duels between the two.
"I would say it affects you in a way. At the same time, you know every game is going to be different when you step on the court," Sinner said, reflecting on how previous experience against an opponent can influence him. "Obviously, you can feel it."
"Certain styles of play may work better against some than others. But in general, you just have to be prepared on that day. I never think about the past, not even when I have a favorable face-to-face. You have to be very brave at all times" .
Sinner achieved it in China, dominating two tiebreaks to break Medvedev's wall, before continuing that victory by defeating him again in three sets in the final in Vienna. Although the mental burden of his six previous losses to Medvedev may have been a big challenge for the Italian, Sinner feels that changing his tactics helped turn his fortunes around.
"I think it had more to do with tennis than the mental part, because I changed my game a little bit against him," Sinner said. "Before I didn't feel ready to do it, and I practiced every day the right way. I tried to make it happen. I made it, obviously there is a mental part too because you have to be prepared to do it in the match. It's a combination of tennis and mentality.
The ability to adapt his game to take on different opponents at the highest level could be key for Sinner as he prepares for his second appearance at the Nitto ATP Finals. Unlike 2021, where he competed as a reserve after an injury knocked out compatriot Matteo Berrettini, Sinner knows he deserves his spot in the prestigious season-ending event.
"It was a difficult moment for me because Matteo got injured," the Italian told the ATP Tennis Podcast. "It was hard to replace him, but I think I managed the situation well. He played two good games, so I'm looking forward to competing again after really qualifying."
"I think you feel better when [te clasificas directamente]if you have achieved it it means that you have had a very good year. "I'm glad to see myself in this situation."
There will be a lot of eyes on this year's three youngest participants in Turin. Along with Sinner, Alcaraz and Holger Rune (both 20 years old) he will try to close their stellar 2023 seasons with great performances in their respective debuts at the Nitto ATP Finals. Sinner is excited to share the Pala Alpitour with two of his former junior rivals.
"It's nice for the sport to see young players breaking through," Sinner said. "It's good to be part of this rivalry, I hope we can live great moments and play at a good level. I'm looking forward to getting started."
Unlike Alcaraz and Rune, of course, Sinner will be able to count on local support as he tries to add experience to his 1-1 record at the Nitto ATP Finals. Regardless of the result, the opportunity to compete at home is something he wants to enjoy.
"The stands will cheer me on and try to do my best so that the fans are happy. I will try to win as many games as possible," Sinner said. "I also have to enjoy this moment. It's going to be something nice for me and I hope I can have a good tournament."
Source: https://www.atptour.com/es/news/sinner-turin-2023-preview-feature