Jannik Sinner On The 'Carota Boys': "They Are More Famous Than Me" | ATP Tour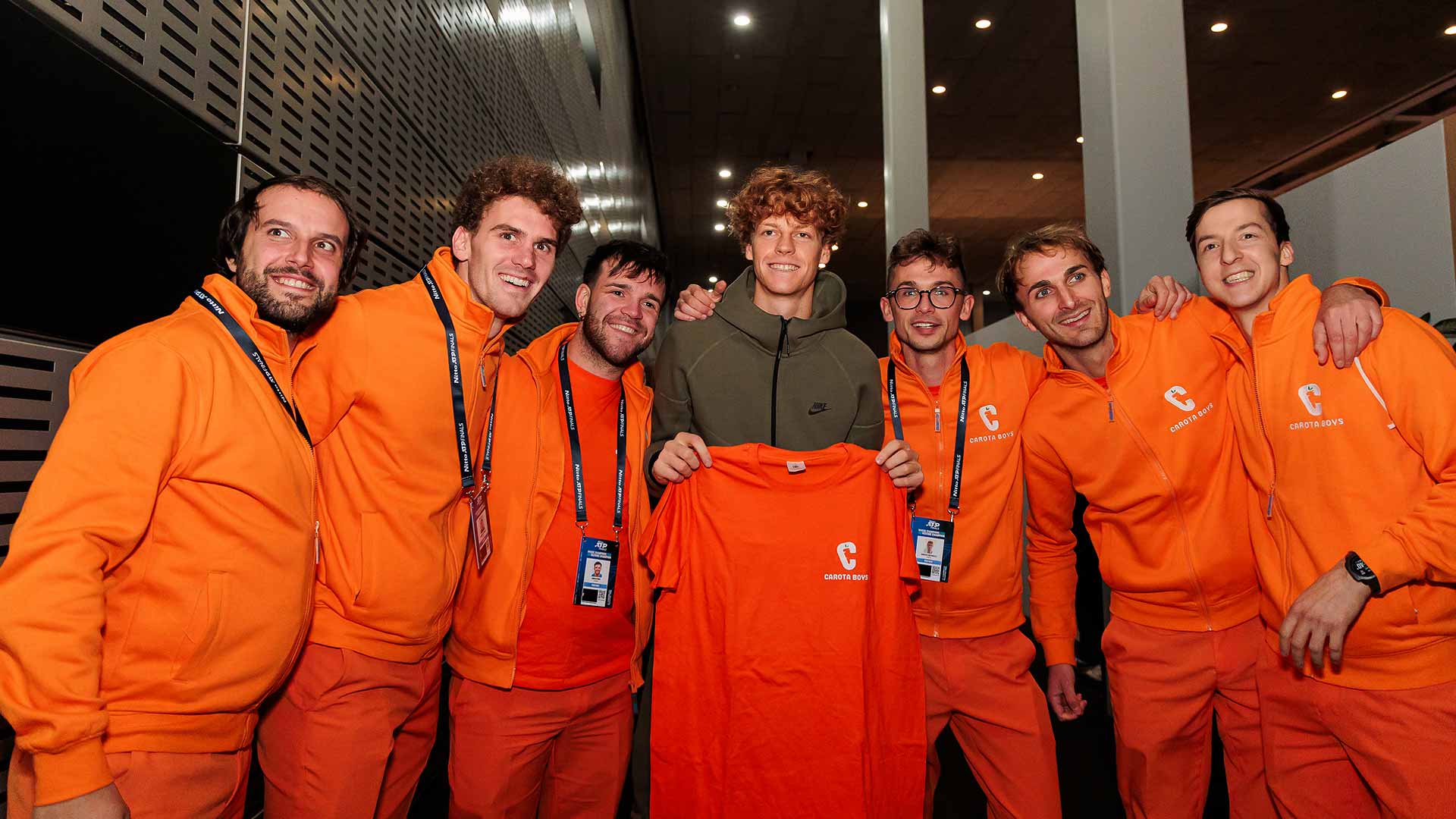 A small aperitif in Vienna four years ago has led to a fan club and a friendship.
Jannik Sinner received his fan club, The Carota Boys, who have become famous on the circuit for appearing in the stands dressed as carrots. It all stems from a change of sides in Vienna four years ago, where the Italian took a bite of a carrot during the match.
"They are more famous than me, honestly," Sinner said at the pre-tournament press conference in Turin. "I met them a few days ago. It was a great meeting, obviously."
You May Also Be Interested: Sinner Signs A Dream Premiere Against Tsitsipas In Turin
Sinner also welcomed the Carota Boys this Sunday at the Pala Alpitour, where the 22-year-old Italian debuted with victory in his first group stage match at the Nitto ATP Finals against Stefanos Tsitsipas.
"I don't know them very well so far. I know their names, but I'm still a little confused. "It's because they have this cool carrot disguise," Sinner added. "But it's great to have this passionate fan club, honestly. "It's growing, so I'm happy for them."
Sinner will try to go 2-0 in the Green Group this Tuesday, when he faces world No. 1 Novak Djokovic. The home favorite can qualify for the semi-finals of the season-ending tournament if he is able to defeat the Serb in straight sets or if he wins and Stefanos Tsitsipas defeats Holger Rune in the afternoon.
The Italian hopes to take advantage of the support of the Carota Boys and the Pala Alpitour crowd to continue his success in this prestigious tournament.
"The atmosphere was very, very nice," Sinner acknowledged after beating Tsitsipas. "It is a great pleasure for me to play here in Turin, in Italy. Obviously it's a little bit more pressure, but I handled it very well today, so I'm happy."
Source: https://www.atptour.com/es/news/sinner-nitto-atp-finals-2023-carota-boys