Dallas, Doha and Munich Become ATP 500 From 2025 | ATP Tour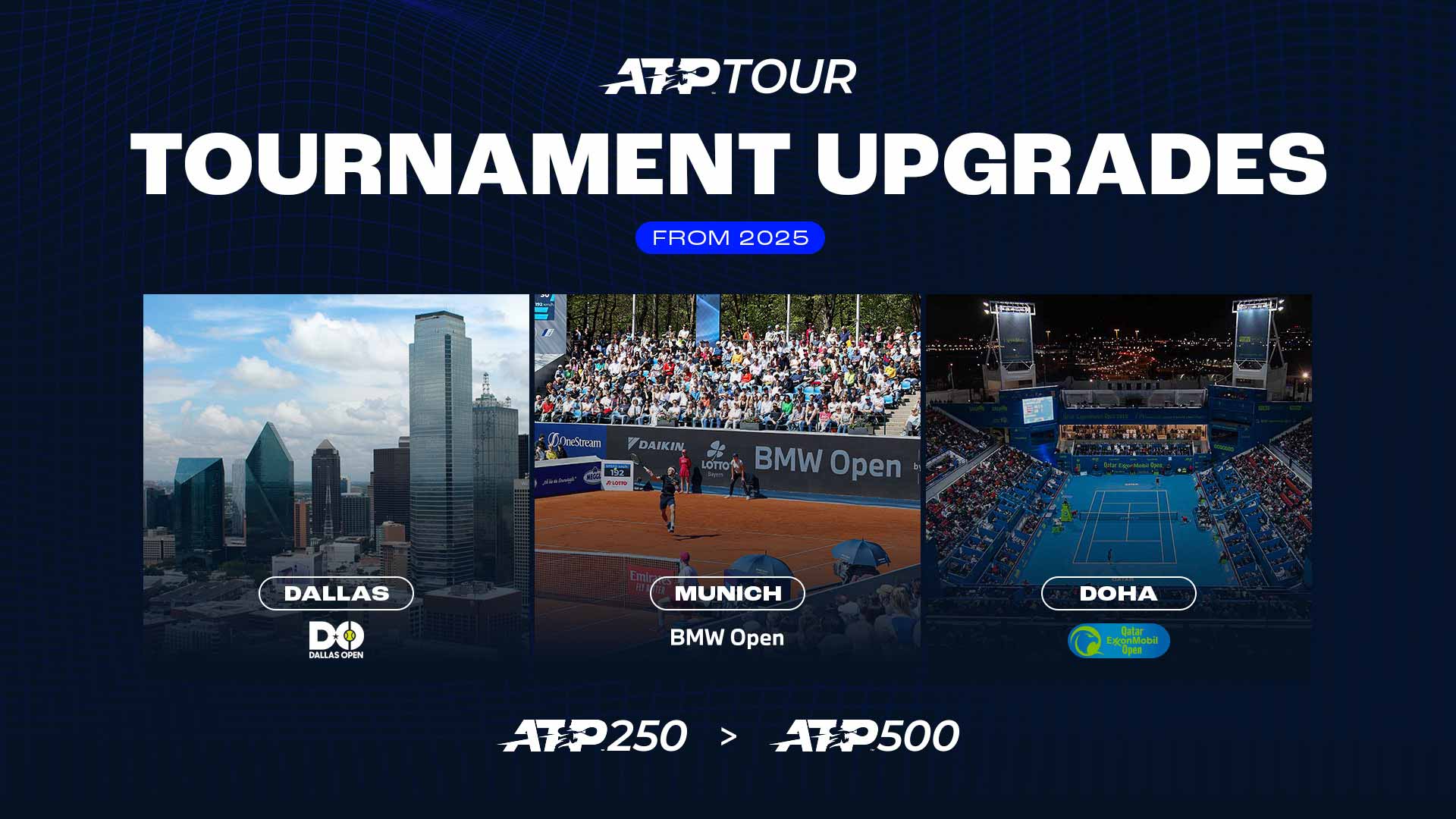 The ATP Tour tournaments in Dallas, Doha and Munich will be promoted to ATP 500 category from 2025, as part of an unprecedented reform to strengthen the tennis calendar.
The increase in these tournaments will benefit fans and players alike, with more action and opportunities to play in larger tournaments. It is the latest ATP initiative to improve the sports calendar and premium product, within OneVision's strategy.
The bid to improve the Dallas Open came from GF Sports & Entertainment, and is framed in a relocation whose new headquarters will be announced soon. The city has a long history of hosting major sporting events such as the NBA All-Star Game, the Super Bowl, as well as the 2026 Soccer World Cup.
The Qatar ExxonMobilOpen in Doha has been named tournament of the year five times in the ATP 250 category, an award voted for by the players, so it is known for its world-class quality standards and is capable of assembling one of the strongest fields of the category.
The BMW Open Munich is set for a large-scale renovation of its facilities as part of this modernization plan. The Munich bid was a joint project between Iphitos (owner of the ATP 250 in Munich) and Champ AG (owner of the ATP 250 in Lyon).
Each of the three tournaments will offer approximately $2.8 million in prize money starting in 2025 and will contribute to expanding the ATP 500 Bonus Pool. In total, the three promotions will mean approximately $51.7 million more for players for a period of five years in the ATP 500 category.
As part of this process, the ATP 250 tournaments in Atlanta, Lyon and Newport will be removed from the calendar starting in 2025.
ATP President Andrea Gaudenzi said: "OneVision is about raising the bar for tennis and unlocking new investments in the sport. "We are delighted to have the Dallas, Doha and Munich tournaments with ATP 500 status, offering better standards for players and, most importantly, giving a better product to our fans."
These promotions will expand the ATP 500 category from 13 to 16 tournaments throughout the season. The cities of Dallas, Doha and Munich join an impressive list of global destinations that already topped the ATP 500 category, including Acapulco, Barcelona, ​​Basel, Beijing, Dubai, Halle, Hamburg, London, Rio de Janeiro, Rotterdam, Tokyo, Vienna and Washington DC The changes also coincide with improvements to the ATP Masters 1000 category, with seven of the nine tournaments taking place in 12 days from 2025.
These promotions are the result of a competitive bidding process in collaboration with Deloitte's Sports Business Group. The full ATP Tour 2025 schedule will be announced in the coming months.
Source: https://www.atptour.com/es/news/atp-500-upgrades-from-2025