By the numbers: The 2023 year-end rankings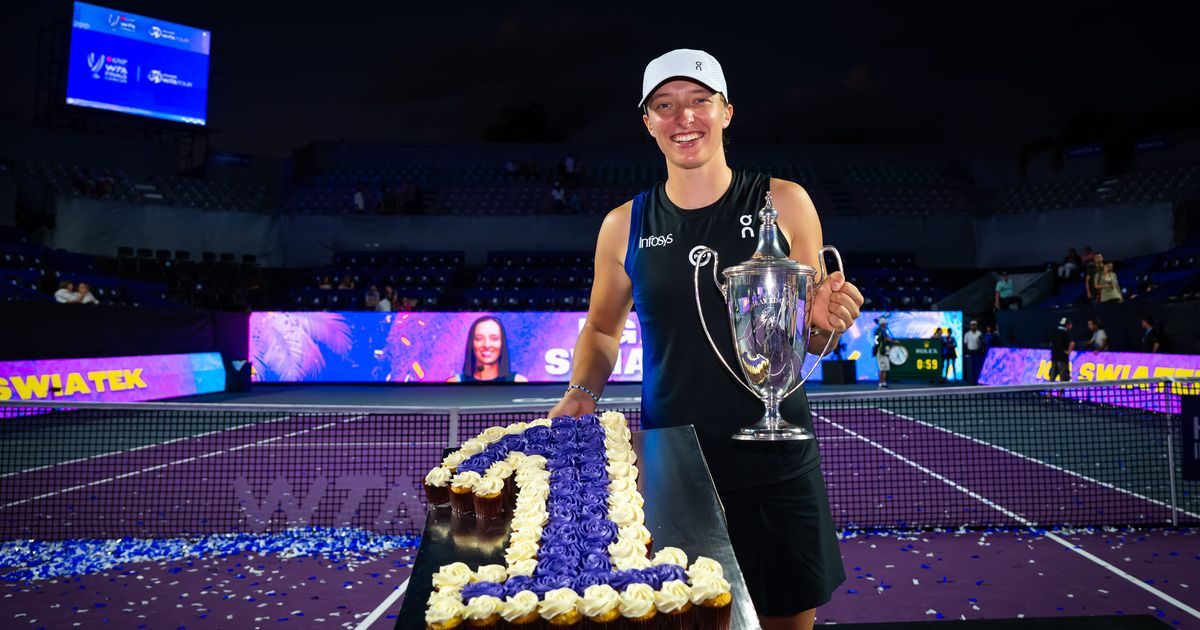 With the conclusion of the GNP Seguros WTA Finals Cancun in the books, the 2023 season officially comes to a close with the year-end WTA Rankings. Click here to view the full rankings (pdf).
Swiatek returns to No.1
For the second consecutive year, Iga Swiatek finishes the year as the WTA World No.1. Swiatek won her final 11 matches of the season en route to titles at WTA 1000 Beijing and the WTA Finals, marking the first time since 2009 that the No.1 ranking changed hands at the year-end championships.
The WTA Finals champ, the World No.1 and another Iga Swiatek masterclass
In 17 Tour-level events (not including United Cup which does not crown an individual title winner), Swiatek reached the semifinals 12 times and also advanced to finish as runner-up at two WTA 1000 tournaments – Dubai and Madrid – winning a Tour-leading six titles.
Swiatek returns to the top of the WTA Rankings for the first time since holding the World No.1 ranking for 75 consecutive weeks. At 22 years old, she becomes the sixth youngest player in Tour history to finish the year at No.1 in consecutive seasons, followed by Chris Evert, Steffi Graf, Monica Seles, Martina Hingis and Caroline Wozniacki.
About the year-end Top 10
Swiatek's end of season move to No.1 pushes Aryna Sabalenka to No.2 in the final rankings. Swiatek and Sabalenka are the only two players to hold the WTA World No.1 this season; Sabalenka held the No.1 ranking for eight weeks.
They are joined by No.3 Coco Gauff, No.4 Elena Rybakina, No.5 Jessica Pegula, No.6 Ons Jabeur, No.7 Marketa Vondrousova, No.8 Karolina Muchova, No.9 Maria Sakkari and No.10 Barbora Krejcikova.
A quick look at a breakdown of the year-end Top 10:
•    Youngest: Coco Gauff, 19
•    Oldest: Jessica Pegula, 29
•    The Top 10 combined to win 23 singles titles in 2023 and have combined to win 62 titles across their respective careers
Four straight for Sabalenka: This year marks the fourth consecutive Top 10 finish for Sabalenka, the longest active streak. Sabalenka has been ranked in the Top 10 every week since November 16, 2020.
Czech trio: For the first time since the WTA Rankings were introduced, three Czech women finished in the year-end Top 10 – Vondrousova, Muchova and Krejcikova. There has been at least one Czech woman in the year-end Top 10 in 12 of the last 13 years — since 2011, with the exception of 2022.
Americans in Top 10: Gauff is the first American teenager to finish in the year-end Top 10 in consecutive years since Serena Williams (1999, 2000). This year marks the first time that two Americans have finished in the year-end Top 5 since 2010, when Serena Williams and Venus Williams finished at No.4 and No.5 respectively.
Greek streak: Sakkari finishes the year in the Top 10 for the third consecutive year. She has maintained her Top 10 ranking since making her debut on September 27, 2021.
Big leaps lead to first-time Top 10 finishes: Muchova, Rybakina and Vondrousova are all finishing in the year-end Top 10 for the first time in their careers. They also represent the biggest jumps in the Top 10 from last year's year-end ranking. Muchova finished 2022 season ranked No.149 (+141 improvement), while Vondrousova improved her year-end ranking 92 spots (from No.99 to No.7) and Rybakina improved 18 spots (from No.22 to No.4).
Doubles year-end No.1
Storm Hunter finishes the year at No.1 in doubles, becoming the second Australian woman to end the season in the top spot in doubles after Samantha Stosur in 2006. Hunter is the third Australian woman overall to rise to the No.1 doubles spot, with Rennae Stubbs also reaching the pinnacle of the doubles rankings.
Top 100 debuts of 2023
Sixteen players broke the Top 100 for the first time in 2023, including eight Americans, two Spaniards, one Briton and one Australian. In chronological order, they were: Rebeka Masarova (Jan. 9), Cristina Bucsa (Jan. 16), Diana Schneider and Katie Volynets (Jan. 30), Peyton Stearns (Apr. 10), Emma Navarro (May 8), Caroline Dolehide (May 22), Elina Avanesyan (Jun. 12), Elizabeth Mandlik (Jun. 19), Mirra Andreeva and Jodie Burrage (Jul. 17), Kayla Day (Jul. 24), Ashlyn Krueger and Kimberly Birrell (Sep. 18) and Emina Bektas (Nov. 6).
Photos: The Top 100 breakthroughs of 2023
The youngest player to make her Top 100 debut was 16-year-old Andreeva, and the oldest was 30-year-old Bektas. The latter became the fourth-oldest player to crack the Top 100 in the history of the WTA Rankings, following Tzipora Obziler, Adriana Villagran and Tina Mochizuki.
Top 50, Top 20 and Top 10 debuts of 2023
Fifteen players broke the Top 50 for the first time in 2023. In chronological order, they were: Lucia Bronzetti (Jan. 9), Elisabetta Cocciaretto (Jan. 16), Zhu Lin and Linda Noskova (Feb. 6), Alycia Parks (Feb. 27), Linda Fruhvirtova (Mar. 20), Varvara Gracheva (Apr. 3), Anna Blinkova (Jun. 12), Aranxa Rus (Jul. 31), Wang Xinyu, Peyton Stearns and Katie Boulter (Sep. 11), Emma Navarro (Sep. 18), Caroline Dolehide (Sep. 25) and Mirra Andreeva (Oct. 9).
Three players broke the Top 20 for the first time in 2023: Magda Linette (Mar. 20), Martina Trevisan (Apr. 3) and Zheng Qinwen (May 22).
Four players broke the Top 10 for the first time in 2023: Elena Rybakina (Jan. 30), Beatriz Haddad Maia (Jun. 12), Marketa Vondrousova (Jul. 17) and Karolina Muchova (Aug. 21). Rybakina and Haddad Maia were the first players representing Kazakhstan and Brazil respectively to be ranked inside the Top 10.
Biggest improvements among Top 100
Fifteen players improved their ranking by 100+ spots from their 2022 year-end position (the week of November 5):
+359 Mirra Andreeva (from No.405 to No.46)
+321 Javanese money (from No.418 to No.97)
+308 Anastasia Pavlyuchenkova (from No.367 to No.59)
+278 Emina Bektas (from No.360 to No.82)
+254 Yanina Wickmayer (from No.328 to No.74)
+211 Elina Svitolina (from No.236 to No.25)
+202 Sofia Kenin (from No.235 to No.33)
+156 Peyton Stearns (from No.209 to No.53)
+141 Karolina Muchova (from No.149 to No.8)
+140 Greetings Minnen (from No.202 to No.62)
+130 Caroline Dolehide (from No.172 to No.42)
+126 Nadia Podoroska (from No.204 to No.78)
+122 Diana Schneider (from No.182 to No.60)
+108 Kayla Day (from No.195 to No.87)
+105 Emma Navarro (from No.143 to No.38)
One player inside the Top 100 finished the year exactly where she started it. Elise Mertens ended 2022 at No.29, and that's exactly where she finds herself at the end of 2023 too.
Bubbling under
The 10 highest-ranked players in the 2023 year-end rankings who have yet to crack the Top 100 are: No.107 Bai ZhuoxuanNo.110 Marina Bassols RiberaNo.112 Emiliana AnnouncementNo.121 Daria SnigurNo.122 Jessica PonchetNo.124 Mai HontamaNo.126 Maria TimofeevaNo.128 Leolia JeanjeanNo.129 Rebecca Sramkova and No.130 Eva Lys.
The five highest-ranked players in the 2023 year-end rankings who have yet to compete in a WTA main draw are: No.160 Yuliia StarodubtsevaNo.183 Veronika ErjavecNo.198 Alice RobbNo.211 Darya Astakhova and No.212 Solana Sierra.
Generation groups
The 10 highest-ranked players from each birth year (from 2002) in the 2023 year-end rankings are as follows:
2002
15. Zheng Qinwen (CHN)
35. Leylah Fernandez (CAN)
39. Marta Kostyuk (UKR)
75. Elina Avanesyan
85. Clara Tauson (DEN)
105. Diane Parry (FRA)
107. Bai Zhuoxuan (CHN)
121. Daria Snigur (UKR)
130. Eva Lys (GER)
132. Olivia Gadecki (AUS)
2003
126. Maria Timofeeva
157. Polina Kudermetova
167. Elsa Jacquemot (FRA)
171. Noma Noha Akugue (GER)
197. Elvina Kalieva (USA)
213. Tatiana Prozorova
220. Jana Kolodynska
268. Antonia Ruzic (CRO)
271. Wei Sijia (CHN)
280. Sappho Sakellaridi (GRE)
2004
3. Coco Gauff (USA)
41. Linda Noskova (CZE)
60. Diana Schneider
81. Ashlyn Krueger (USA)
142. Erika Andreeva
187. Robin Montgomery (USA)
212. Solana Sierra (ARG)
216. Yang Ya-Yi (TPE)
232. Lanlana Tararudee (THA)
250. Anca Todoni (ROU)
2005
89. Linda Fruhvirtova (CZE)
139. Celine Naef (SUI)
175. Petra Marcinko (CRO)
195. Ella Seidel (GER)
205. Alexandra Eala (PHI)
243. Lucie Havlickova (CZE)
244. Taylah Preston (AUS)
276. Lola Radivojevic (SRB)
293. Sofia Costoulas
303. Victoria Jimenez Kasintseva (AND)
2006
190. Sara Bejlek (CZE)
270. Nikola Bartunkova (CZE)
323. Victoria Mboko (CAN)
353. Mia Ristic (SRB)
362. Sara Saito (JPN)
511. Clervie Ngounoue (USA)
546. Ren Yufei (CHN)
550. Sarah Iliev (FRA)
631. Marta Soriano Santiago (ESP)
653. Isabelle Lacy (GBR)
2007
46. ​​Mirra Andreeva
133. Brenda Fruhvirtova (CZE)
156. Alina Korneeva
541. Veronika Podrez (UKR)
610. Renata Jamrichova (SVK)
647. Iva Jovic (USA)
680. Tereza Valentova (CZE)
745.Mingge Xu (GBR)
756. Angelina Voloshchuk (POR)
842. Akasha Urhobo (USA)
2008
761. Tyra Caterina Grant (USA)
810. Julia Stusek (GER)
855. Sol Ailin Larraya Guidi (ARG)
873. Emerson Jones (AUS)
881. Victoria Bervid (CZE)
902. Candela Vazquez (ARG)
948. Mia Pohankova (SVK)
962. Charo Esquiva Banuls (ESP)
1088. Wakana Sonobe (JPN)
1138. Shannon Lam (USA)
2009
659. Hannah Klugman (GBR)
By the numbers: The 2022 year-end rankings
By the numbers: The 2021 year-end rankings
Source: https://www.wtatennis.com/news/3772549/by-the-numbers-the-2023-year-end-rankings