A WTA Finals champ, the World No.1 and another Iga Swiatek masterclass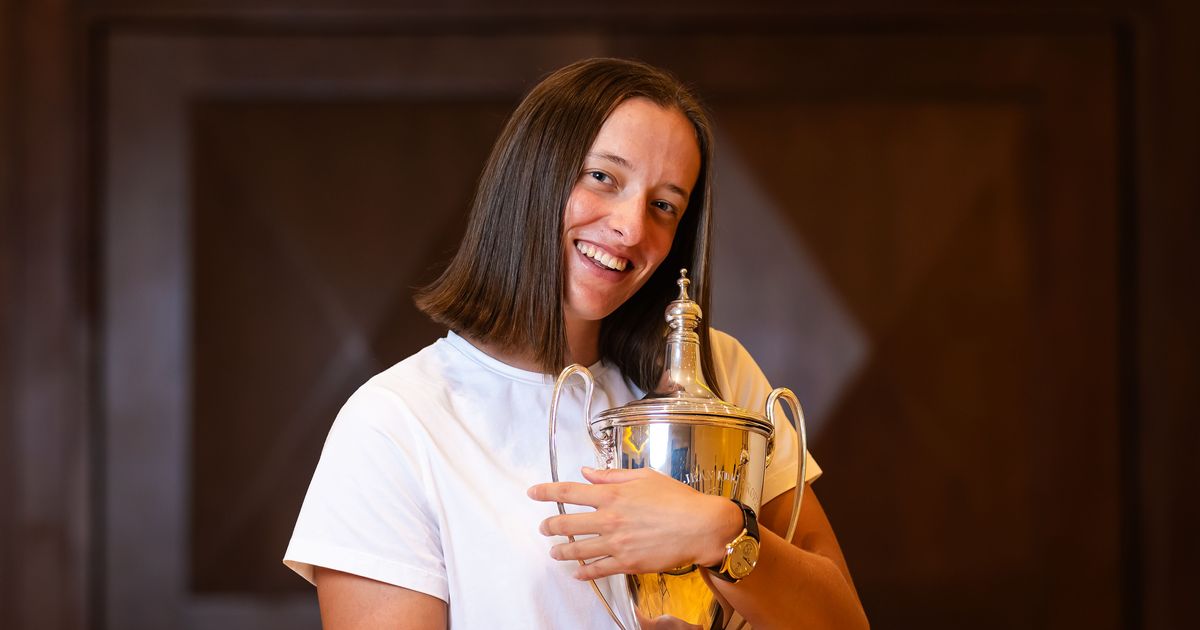 CANCUN, Mexico — How do you top a season that's already rewritten the record books?
For Iga Swiatek, you don't. Or perhaps, you do.
Last year, Swiatek famously ran off with 37 straight wins, more than anyone else this century. She had no competition for her No.1 ranking and, quite frankly, was in a league of her own.
But then this year happened. In September, her 75-week run as the No.1 player came to an end after the US Open. Swiatek was visibly shaken. It turned out the downturn hurt more than she had let on. Afterward, she said all the right things. She was in no rush to take the No.1 back from Aryna Sabalenka. Her focus was to play more freely, to improve herself — as a player and a person. If she did that, the top ranking would return.
And it did. On Monday, she finished off another ridiculous stretch. A day after routing Sabalenka, Swiatek dropped only a game against Jessica Pegula in the championship match of this year's WTA Finals. Altogether, Swiatek did not drop a set in Cancun — this against the best competition in the world.
"2022 was so amazing that I don't know if it's gonna be possible for me to repeat a season like that," Swiatek said. "So I just didn't feel at the end like I'm in the shadow anymore because I knew that I'm having another great season. And honestly, I kind of accepted that I'm not going to have a season like that, like in 2022, and I just looked forward."
Dating back to Tokyo, her first event after the US Open, Swiatek went on to win 12 of her last 13 matches to finish the year. She rolled to the title in Beijing. Then in Cancun, knowing she would likely need to run the table to have a chance at No.1, she became a wrecking ball.
"I learned my lesson and this time I didn't want [the No.1 ranking] to have an impact on me," Swiatek said. "It did a little bit — it's hard not to think about stuff like that — but actually, when I went on court, I knew that I had to focus on different things. And actually, the conditions here that were kind of tricky, also helped me to just focus on my footwork, my shots, and that just kept me busy from thinking about all of that."
Against Sabalenka in the semifinals, Swiatek put in one of the most emphatic matches of her career to win 6-3, 6-2. She then outdid that with a 6-1, 6-0 victory over Pegula, a player who beat her twice this season. Swiatek bested the marks set by Martina Navratilova in 1983 and Kim Clijsters in 2003 (both of whom lost two) for the fewest games conceded in a WTA Finals title match.
"She's been, in my mind, the one to beat the last couple years," Pegula said. "She's showing that even when she loses some matches or doesn't win the tournament, that she's still bouncing right back and is playing at a high level every single week.
"That's what a top player does, what a champion does, and I think she showed that."
And with that, Swiatek put an exclamation point on her 2023 season by completing the most dominant run in the year-end championships since the round-robin format was reintroduced in 2003. It was a fitting end for the player with more wins, titles and victories over Top 10 opponents than anyone on tour.
To appreciate what Swiatek has done not just in 2023, but in her back-to-back seasons, look at the company she keeps in the stat books.
The stats that matter:
20: Number of games lost by Swiatek across five matches in Cancun, the fewest games lost since the round-robin format was reintroduced in 2003. She shattered Serena Williams' 2012 run, in which the American dropped 32 games. Swiatek lost just 20.
68: Match-wins for Swiatek in 2023. That's one more win than her 2022 campaign and the most for any player since Williams won 79 in 2013. Swiatek is the first player under 23 to win 65 or more matches in back-to-back seasons since Martina Hingis (1997-2000).
3: Players to win titles at every WTA tournament level in a single season. With her titles in Warsaw (WTA 250), Stuttgart and Doha (WTA 500), Beijing (WTA 1000) and Roland Garros (Grand Slam), she joins Williams (2013) and Petra Kvitova (2011) as the only players accomplish the feat.
33: Top 10 wins since the start of 2020 for Swiatek. How does that compare to the rest of the field? The next most over that time span is Maria Sakkari with 19.
4: Players who won the WTA Finals before turning 23: Kim Clijsters, Maria Sharapova, Kvitova and Swiatek.
2: Number of players in the Open Era to win 17 tournaments in their first 21 finals. With a 17-4 record in finals, Swiatek matched Chris Evert as the only other player to do so.
22: Number of 6-0 sets Swiatek dished out in 2023. She is the first player to register 20 or more in back-to-back seasons since Stefanie Graf and Monica Seles in 1991-92.
13: Number of Top 10 wins this season for Swiatek. She is the first player since Serena Williams (2013-14) to tally 10 or more Top 10 wins in consecutive seasons.
Source: https://www.wtatennis.com/news/3772009/a-wta-finals-champ-the-world-no-1-and-another-iga-swiatek-masterclass